Categories:
Louis Vuitton
The newest "elegant bag" to own from Louis Vuitton, the Vaneau Bag is the perfect daily bag companion. For women who are always on a hunt for the latest stylish bag, you'll absolutely be smitten with this Louis Vuitton creation that looks every inch of perfection.
The Vaneau bag flawlessly combines the luxurious iconic Epi leather with Cuir Ecume leather to provide only the best. With its sleek, hip, and sophisticated look, this bag is sure to be a match made in heaven for women who are always on the go since it can hold all your can't-live-without items.
Its ideal silhouette and lightweight features also make it an essential bag. Did we mention that it is practical as well? It has 2 Toron handles for easy hand carrying and a removable shoulder strap for shoulder and cross-body carrying. Talk about owning a bag that offers multi-functionality!
Looking inside, the Vaneau bag features a double smartphone pocket and an inside zipped pocket for effortless organization. If those compartments aren't yet enough, worry not for it also has an outside flat pocket.
Measuring 11.4" x 8.7" x 5.5" (L x H x W) inches and is priced $2500 USD, €1800 euro, £1750 GBP, $20100 HKD, $3350 AUD, ¥18600 CAD via Louis Vuitton boutiques.
Tags: Louis Vuitton Epi bag VANEAU
comnum(0) tbcount(0) tbcount(247)
Categories:
Louis Vuitton
The original Louis Vuitton Alma Bag was created by Gaston Vuitton, who named the bag for the 'Alma Bridge', a span that connects two fashionable Paris neighborhoods.
With a history of more than half century, the Alma Bag is recession-proof, a true iconic and 100% timeless. Throughout the years, Louis Vuitton has created many different versions of the Alma, but the shape and the basic elements remained the same like the handles. And today, they reveal the contemporary version, crafted from Epi leather, but in black and silver color.
This mix of shades creates a special shiny effect – it's very smooth and attractive. And because of this, the silver hardware truly stands out, especially the iconic LV lock.
The interior comes with one large compartment, with patch and phone pockets. Open the bag with the double zipper; the opening is wide for easy access.
Louis Vuitton Alma Black Silver Epi BB Bag
Size: 9.4' x 6.7' x 4.7' (L x H x W) inches
Prices: $1820 USD, €1320 euro, £1230 GBP, ¥213840 JPY,
Louis Vuitton Alma Black Silver Epi PM Bag
Size: 12.6' x 9.4' x 5.9' (L x H x W) inches
Prices: $2350 USD, €1720 euro, £1600 GBP, ¥277560 JPY, $3050 AUD
Tags: Louis Vuitton Epi Alma bag
comnum(0) tbcount(0) tbcount(330)
Categories:
Louis Vuitton
Introducing the Louis Vuitton Epi Kleber Bag. The Kleber is a structured top handle bag made of the brand's grained cowhide Epi leather. The bag makes a perfect business bag with its clean lines and simple yet elegant design. It has smooth cowhide trim and microfiber lining. Inside, you will find 2 interior compartments, zipped pockets and double smartphone pocket. The exterior has a back pocket in contrasting smooth leather. It includes a removable shoulder strap, allowing the bag to be carried by hand or on the shoulder. Available in two sizes, PM and MM.
Style, Price & Size
| Style | Price | Size |
| --- | --- | --- |
| Louis Vuitton Epi Kleber MM Bag | €1,880.00 | 14.9" L x 9.1" H x 5.5" W |
| Louis Vuitton Epi Kleber PM Bag | €1,680.00 | 11.8" L x 7.5" H x 4.7" W |
Gallery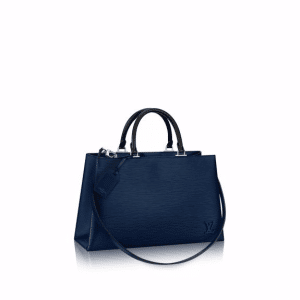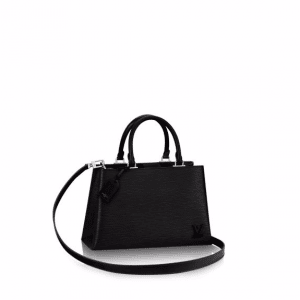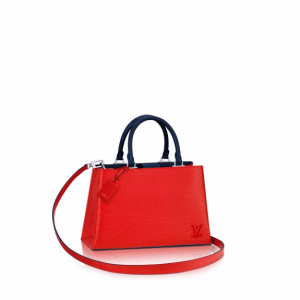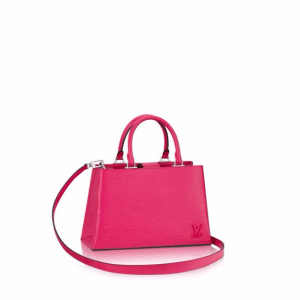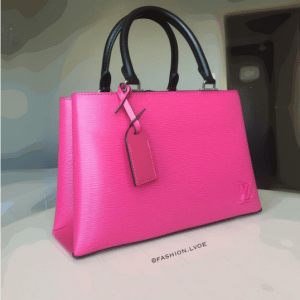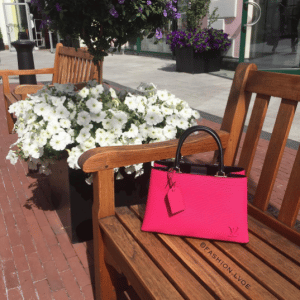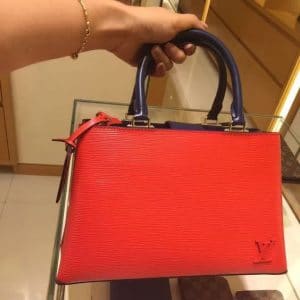 Tags: Louis Vuitton Epi bag Kleber
comnum(0) tbcount(0) tbcount(215)
Categories:
Louis Vuitton
When people think of Louis Vuitton bags, they usually think of either the brand's ubiquitous brown and beige monogram, or maybe one of its equally iconic Damier check prints. As with most things, though, the real treasures lie just below the surface, and I'm not talking about all of the smooth leather bags Nicolas Ghesquiere has introduced in his tenure at Vuitton. No, instead, I'm here to heap a little but of much-deserved admiration on Louis Vuitton's Epi Leather.
Epi Leather was introduced in 1985 as the brand's first permanent leather line, and it's been beloved for its durability and vivid color selection ever since. The leather is dyed, printed with Epi's famous three-dimensional wave pattern and then painted with a color-matching top coating, which ensures the colors are especially bright and makes the leather very resistant to water and wear. There's a reason Epi bags are so popular on the resale market: they require very little care to look virtually new for years.
Perhaps best of all, Epi is a little more subtle than the materials normally associated with LV. You still get the brand's incredible craftsmanship and design, but in a slightly more discreet package and without the astronomical prices of Vuitton's more fragile and expensive smooth leathers. For us, that's a win-win. Check out some of our current favorite Epi Leather bags and accessories below.
1 / 10
LOUIS VUITTON CLUNY BB BAG

2 / 10
LOUIS VUITTON EPI ALMA BB BAG

3 / 10
LOUIS VUITTON EPI NEVERFUL MM TOTE

4 / 10
LOUIS VUITTON EPI PETITE NOE BAG

5 / 10
LOUIS VUITTON EPI SOUFFLOT BAG

6 / 10
LOUIS VUITTON EPI ZIPPY WALLET

7 / 10
LOUIS VUITTON LOUISE EPI PM BAG

8 / 10
LOUIS VUITTON PHENIX PM EPI TOTE

9 / 10
LOUIS VUITTON TWIST CHAIN WALLET

10 / 10
LOUIS VUITTON TWIST MM BAG

Tags: Louis Vuitton Epi leather bags
comnum(0) tbcount(0) tbcount(281)
Categories:
Louis Vuitton
The famous Epi bag from Louis Vuitton has just been reinvented with interesting twists! The LV Twist Stitched Epi Shoulder Bag was just recently introduced and launched by the fashion powerhouse's Creative director Nicolas Ghesquière. For the newest and latest collection, the creative team behind this timeless luxurious brand added beautiful large stitches as added ornaments and decorations thus making it look girlier and more feminine. With powerful string accents, the Epi bag just looked more adorable.
What's even more appealing with this bag is the ingeniously designed "wave" base that provides extra room for your necessities. They said that looks can be deceiving and the same can be said with this eye candy for it's roomier than it actually looks like. Throw all your worries away out the window for it can stow and hold all your essentials such as your small make up kit, mints, smartphone, car keys and even your wallet! The chain handles are not only fashionable but they're also multifunctional as well for you can hung them fashionably from your shoulder or you can wear them cross-body.
So what are you waiting for? Head to the nearest LV boutique and get your hands on this newest bag collection.
Tags: Louis Vuitton Epi bag Shoulder Twist STITCHED
comnum(0) tbcount(0) tbcount(292)
Categories:
Louis Vuitton
They're tiny and a bit pricey; they're cute and fashionable. Every iconic bag deserves to shrink at house of Louis Vuitton and that includes the Montaigne and Dora Bag.
Sometime ago, we've announced the shrinking-evolution of the Louis Vuitton iconic bags like the Noe, Alma, W or the Alma Bag. They're available in miniature-size – and they're so cut like little babies.
But here's the story; Louis Vuitton has made more bags in tiny edition and now the Nano Montaigne and Dora Bag are included in the collection. And besides that, the Nano Alma Bag is even crafted in Epi Leather.
These tiny size handbags are ideal for daily essentials – you know, the thing you need to take when you go out like your smartphone, credit cards and keys. And oh, you want to know in real-life what fits inside this bag. Then read this:
So forget about the Wallet on Chain Bags because these are perfect as well – they're light-weighed, versatile and also featured with long strap to carry on your shoulder.
So what do you think?
Tags: Louis Vuitton Epi Alma bag Montaigne Dora Nano
Categories

New Posts

Hot Posts